Kinky Phone Sex for $10
Do you have an "itch" that you just can't scratch? Do you know what I mean… it's like this little knot inside you that you just can't untie until you cum. It can hit anywhere, at home, at work, in the car driving, and so on. We'll scratch your itch with some Kinky Phone Sex!

Sexy-Whispers.com is just the place to make your fantasy….. a nasty reality. Our kinky Phone Sex Operators are of different ages, have varied experiences, unique tastes, filthy fantasies, and they all enjoy phone sex to be "natural" with no scripted talk. Our kinky phone sex girls live all across the United States and work from the privacy of their own homes. Whenever you are ready to blow a massive wad…. stop by…. and share it with a lady who wants to spend the time to get to know your deepest nastiest desires.
Call Now!
Pay by Phone
Pay Online
Call Now!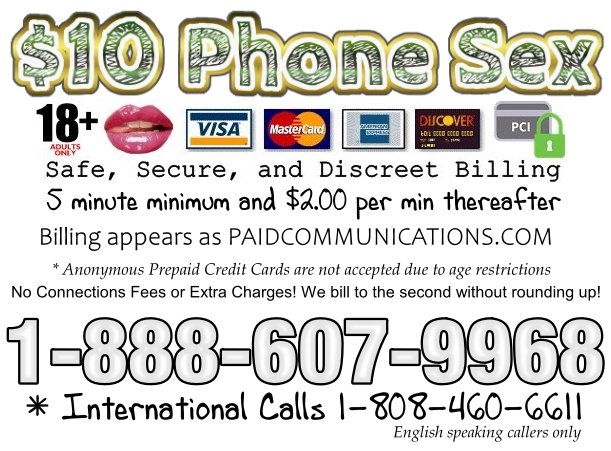 We are a No Taboo Service which means that any topic or fantasy you'd like to discuss is allowed and welcomed. We do not place limits on a fantasy or a conversation. You have complete freedom. All of our lovely ladies are speaking to you from their homes. No one but you and your kinky lady will know what you have spoken about. 
Pay by Phone

All billing is done by phone with an Automated system. When you call you to listen to the brief Preamble and then enter all of your own credit card details. This prevents human error and keeps all of your information safer than giving it over to a live person. The procedure is painless. Once you have entered all of your information our system will recognize you in the future by your telephone number. 
You'll be connected for the minimum price of $10 and will be able to extend your call for up to 20 minutes each time you'd like to go longer. Funds will be put on hold once the operator accepts your call. But you will ONLY be billed for your actual talk time after the call has ended.
Pay Online

Some clients prefer to set up their accounts online and we are happy to oblige. You can add as much in funds as you'd like. Some clients limit what they spend by adding funds on each call. Others add $100 or $200 and then do multiple calls in a month. This is more discreet for clients who do not want several different charges on their bill that a significant other may notice. You never lose your funds. They remain in your account until you use them for a call! There are many other benefits to paying online such as being able to email operators for free, being able to save your favorite girls, and having a complete report of what you have spent. Please use the button below to pay for your call online.

If the Phone Sex isn't Kinky… then it's not really Phone Sex! Phone Sex is a way to explore our fantasies by sharing a conversation over the telephone. But let's face it… some of our fantasies are just downright NASTY and too taboo to discuss with our friends. The dirty little sluts at Sexy-Whispers.com have no problem sharing your dirty daydreams, or even sharing their own. We are a group of nasty girls that thrive at phone sex, roleplay, and the dirtiest of secrets. Our specialty is catering to kinky calls, the more taboo the better, and we like it that way. So step inside, check out our phone sex rates, call the toll-free number, and you'll be connected to a girl that wants to play with your freakiest fantasy. Phone Sex should never be mundane…. it should be about the freedom to get as nasty as you want to be.
Kinky Phone Sex with Nasty Sluts Equals a Kinky Masturbation Session! If you are looking for the hottest, raunchiest, most thrillingly seductive dirty little phone sex sluts ever to whisper wicked words in your ear, then you've come to the right place! Hot phone sex action is available with live girls in their homes. We feature a great selection of horny raunchy ladies who work from the privacy of their homes. We provide high-quality customer service, discreet billing, and, of course, reasonable prices. We also have another goal: to bring you the best phone sex experience you can have on the Internet.  We specialize in privacy so your secret desires will be safe here with us! Don't forget that these lovely ladies all work from home so you'll never know what you are gonna catch them doing… Or whom they're doing…..
We Have Unconditional Love for Perverts, Kinksters, Freaks, and Weirdos! WTF does that mean? It means we WELCOME your taboo fantasies. We are not a service that will limit a "fantasy" and our girls are all willing to talk about anything you'd like. Limiting a fantasy means we're limiting our imaginations, and we just don't see the point. There are no stupid "Terms of Service" that our girls must abide by. You speak to them personally and individually in their homes. Your call is totally private. We're not here to "judge" either, we just want to play, and have fun. That's what you want right?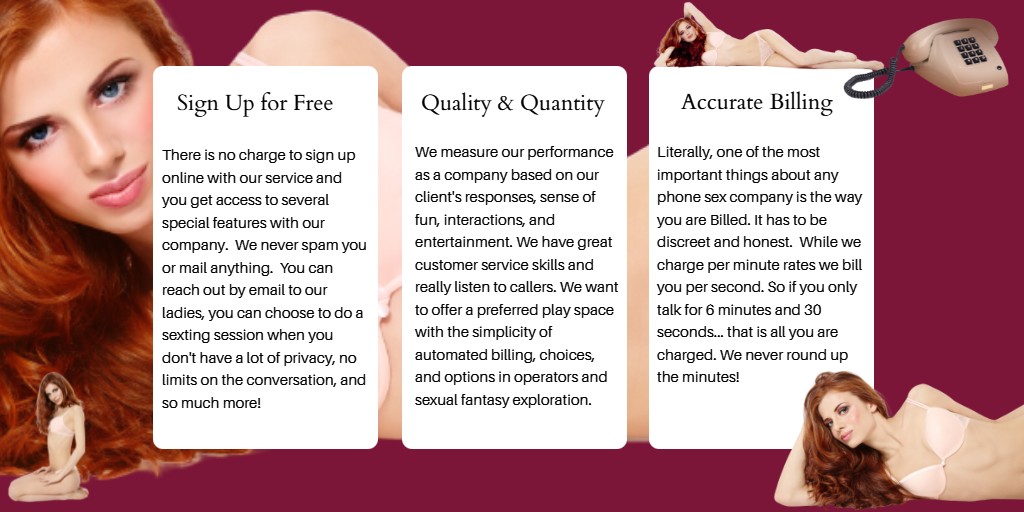 ---